*Note: The legacy Submittal and Advantage Reports tool will be obsolete by January 2022. We recommend Setting up the New Submittal & Advantage Reports Tool as soon as possible and familiarizing yourself with the interface and usage.
Issue - When performing an Advantage report to the locally installed Word the user receives the following error message:
RPTViewer - An error has occurred producing the Report. The report could not be printed. Error #70 - Permission denied.

Solution – In Microsoft Word make the following setting changes under menu File and then Options

The last 2 options must be unchecked
- Open e-mail attachments and other uneditable files in reading view
- Show the Start screen when this application starts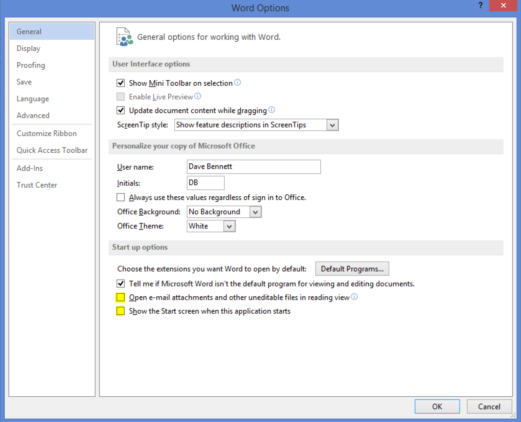 Then press ok, and try the Advantage report again.
This error might also occur if another user to creating the same report for the same project.
Note: This can also be caused when an orphaned WinWord.exe process running in the background. If this process is found running under the troubled user in Task Manager, end the process. Then launch Word manually and clear any Recovered Documents it may load up.