Door Types and Lite Kit Preps
For Door Types where more than one lite kit can be considered "standard" per the price book (ex: FNV, HG, etc.), we now require users to select a Prep in order to define and price the required lite kit for their specific application.
These affected Door Types have the phrase "Choose Lite Kit Prep" in their Descriptions, visible when the Door Type column is expanded:
Prep selection: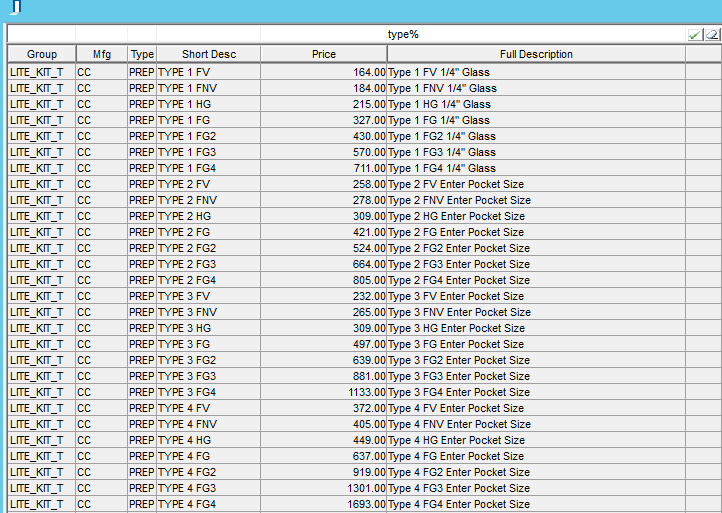 Pocket Door Frames
Pocket door frames are drawn as elevations. The photos below detail an example of the elevation drawing information.



N, NM, NG Nailer Frames
There are three profiles of Nailer frames as follows.
N - No Returns - KD w/Compression Anchors - With Holes (If holes are not required please select the prep in ENG-MISC)
The following frames must be welded with weld in anchors. (Loose anchors are not permitted)
NM - No Returns - No Anchors - No Holes (If holes are required please select the prep in ENG-MISC)
NG - No Returns - No Anchors - No Holes (If holes are required please select the prep in ENG-MISC)


Below is an example of the three profiles in the Detailed Frame window


Example with Omitted Holes


Example with Added Holes

Revision 6/24/22 - CCW21E 1" through 1 7/8" face open section
Standard dimensions available at no charge are 1", 1 1/4", 1 1/2", 1 3/4" Faces
Non Standard dimensions available at 15% add are 1 1/8", 1 3/8", 1 5/8", 1 7/8" Faces
Use prep NS FACE<2