Question: What is the difference between equivalent products and alternate products?
Environment: Comsense Enterprise & Product Master window
In this article:
Differentiating Equivalent Products and Alternate Products
The main difference between equivalent and alternate products is the direction of the relationship with the managed product. If you source using equivalent products, the system sources the managed product instead of the equivalent product when the equivalent product is requested. If you source using alternate products, the system sources the alternate product instead of the managed product and the managed product code remains on the sales orders or project.
Equivalent Product
Equivalent products and managed products are interchangeable. The managed product must perform the same function as the equivalent product and vice versa. Equivalent products are often used if you stock one version of the product or if you have a default version product for the majority of orders and another version of the product for special circumstances. Examples of an equivalent product include:
A tri-packed closer (managed product) and regular arm, parallel arm, and top jamb mounted closers (equivalent products)
A labeled hinge jamb with embossing product equivalent is an unlabeled hinge jamb
Using Equivalent Products
To use equivalent products, the product code(s) must be in the Equivalent Products tab in the Product Master window.
In the sourcing wizard, Check the Automatically Choose Equivalent Managed Products checkbox.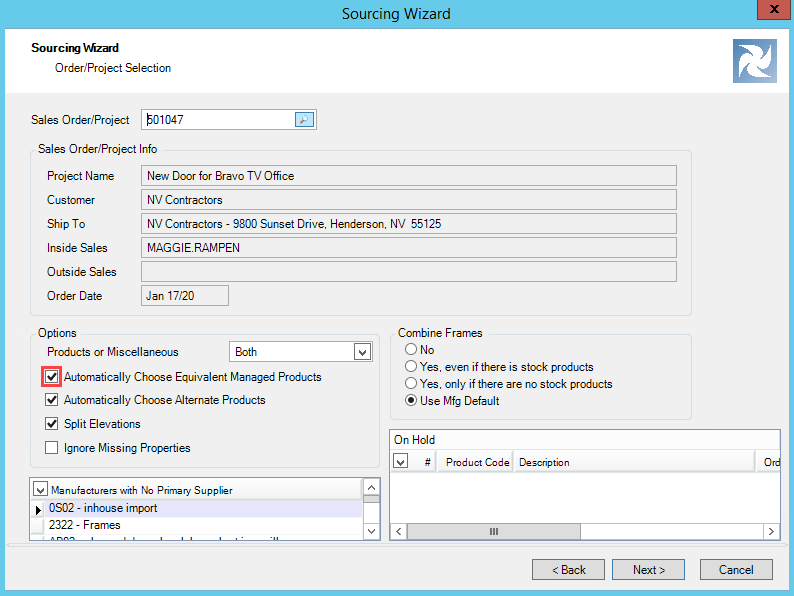 Alternate Product
Alternate products consist of one or more components that make up the managed product. Alternate products are often used when you do not stock the complete product but stock all the product components. If you use alternate products, the managed product name remains on the transaction paperwork rather than listing the multiple components. An Example of alternate products is a lock with a specific core (managed product) where the lock and core (alternate products) are stocked separately.
Using Alternate products
To use alternate products, the product code(s) must be in the Alternate tab in the Product Master window.
In the sourcing wizard, check the Automatically Choose Alternate Products checkbox.