Version 1.22.2204:
Where the elevations window is opening in 'Read-only' or when the user only wants to open the window to view information only, a new right-click option has been added for 'Elevations Costing (READ ONLY)' to enable viewing of the costing window.
The Project Master has a new 'Committed Completion' date field. This field is informational only and does not provide any function or transaction controls. When an estimate is sold, this date will carry forward to the associated detailed project.
Corrected issue where product notes would not respond to delete function.
Corrected for heading builder issue not allowing for a consistent heading number where the opening description of one or more openings had a blank space(s) at the end.
Correction for error when un-sourcing work orders.
Corrected Purchase Order Summary report for not reporting un-sourced product.
Version 1.22.2206:
Generic Metal Frame PO changes:

Frame head column is now defined as 'DIM HD', a more intuitive column heading name to represent the dimension of the head.
Corrected printing for Metric sizes.

Purchase Order - Added field for 'Remit-to'. Subsequent Payable entry will reflect the PO Remit-to.
Advantage - Catalog Maintenance menu, Frames window - Added tab for Frame Kit PO. This window provides the ability for users to change how frame components are bundled by default when sourcing to a purchase order.
Correct intermittent error in Advantage when using the property global replace.
Corrected issue where on Notes window were clicking the red 'X' would delete the note.
Version 1.22.2208:
Corrected for missing Divisional security when entering an order number directly on the Order Management window.
A new tab has been added to the Order Management window named 'Products/Openings'.  This tab provides a detailed view of product at the opening level with the additional ability to 'Group' by various column headings. To use the grouping feature, simply drag any one or more of the column headings to the blue font area named 'Drag a column header to here to group by that column'. Note that not all column headings are eligible to be dragged.  To remove the group, simply drag the column name off of the grouping section. Normal filtering options are available and heading sorting features available within all the grouping sections. This is particularly useful for viewing the various product statuses for a particular opening or grouping category.
Hardware with a product category of 'Lock Trim' which defined on a hardware set with a quantity of 2, will now apply a quantity of one to each leaf of a paired opening when headings are generated. 
The In-House Labor master has a new 'Application' type named 'Strike' and reacts in the same manner as Manufacturer Frame Preps which are designated as 'Strike' - IE, those hardware labor operations with 'Strike' designation,  will be applied only the strike jamb.
The toolbar item 'Opening Phase Filter & Replace' has been removed as the functionality in this window has been included in the toolbar item 'Opening List Filter & Replace'.
The right click option to view images in the Heading Prep Review window is not active.
The Advantage, Catalog Maintenance, Frames window has a new tab named 'Frame Kit PO' to allow users to maintain how frame components are bundled on their respective Purchase Orders. 
Version 1.22.2211:
A global change feature has been added to the 'Pool to Stock' window where a non-stock pooled item is being pooled to stock and assigned to a different Managed Product Stocking product.  Simply add the desired product (using the right click to 'Add Managed Product') to the first pooled product then use the right click and choose the 'Copy to all lines with the same Product Code' option.
Corrected intermittent issue with 'Actual Usage' not being reflecting true values in the Managed Product Management window and Shipment Scheduling window
Version 1.22.2222:
Installation module has been enhanced in many areas. The most prominent is the ability to accommodate change orders and additional information in the Opening Report. Please review the attached document 'Installation Feature'.
Version 1.22.2224:
Corrected problem where KD frames being changed to Elevations needed to be 'Costed' twice to show up in the Pricing/Component Cost window.
Corrected for recent error when partially completing a work-order.
Version 1.22.2233:
Corrected for an intermittent dropping of Elevation from costing.
Corrected for an intermittent dropping of preps due to a product being deleted from the Hardware/Product window.
Version 1.22.2235:
VT EDI - 'Process EDI' now returns line item costs.
Version 1.22.2240:
Pricing Window/Installation Worksheet Operations Selection window has been modified to allow for selection of any operation instead of just the default operations.
Version 1.22.2243:
The feature in the Complete window for 'Advanced Opening Duplication' has been expanded to provide a 'Multiple Structure' option for generating openings numbers. The generation window still includes the previous 'single structure' option but now includes a new tab named 'Multiple Structure'. There are two types of structure options; one for consecutive numbering and the other is for a list of an unlimited number of fixed structure values (simply right click in the Structure Component column to add new attributes).  Use the "Position" field to define what position the structure attribute is to fall within the built-up opening number (Use the 'Opening Position' field to define where the 'base' opening number is to be positioned in the new built-up opening number).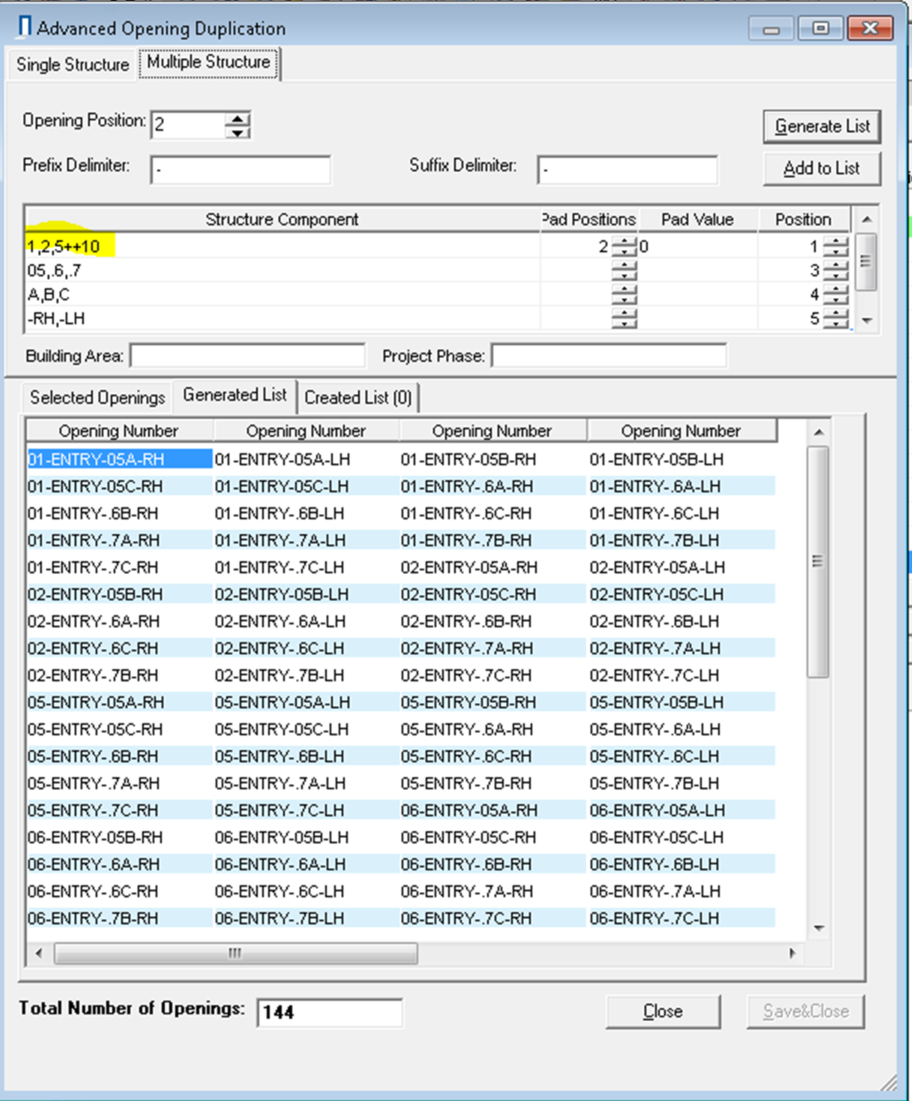 Version 1.22.2247:
Corrected auto-populating of hands when importing a project.
Further refinements to Installation Worksheet where the project has existing change orders.
Corrected for error when deleting a change order with Installation.
Corrected performance issue with Advantage Hardware window/Products tab.
Version 1.23.2301:
Updated for some internal licensing.