This spreadsheet uses Excel PowerPivot and the Comsense Data Warehouse to provide Sales Journal data like the Sales Journal report in Enterprise.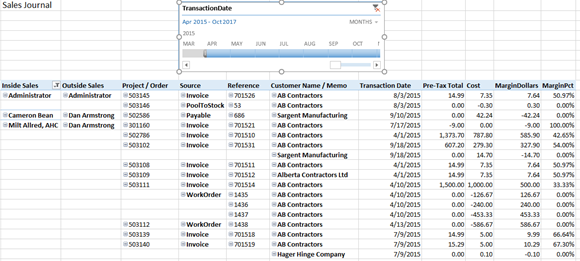 See the article Setting the Data Source for Excel PowerPivot Files to connect this file to your data.
Revisions
Nov 22, 2017: Added Project / Order Description. Added Customer Name column, which always shows customer name, unlike Customer Name/Memo column which shows supplier name for Payable transactions. Added Order Type which indicates if the transaction was for a Project or SalesOrder.
Notes:
Only certain editions of Excel include the PowerPivot feature see this article on PowerPivotPro for more info.
To enable the Excel PowerPivot feature see Microsoft's instructions here